Broadbeach Luxury Apartments Are More Affordable Than You Think
Category: Apartment Written by : Phoenician Resort
For many of us, when we hear the word 'luxury', we think 'unaffordable' – but that isn't always the case. In fact, when you look at some of the amazing deals on Broadbeach luxury apartments, you'll see it's well within your reach.
Sure, in the past, luxury was very expensive on the Gold Coast, with the well off choosing hotels, and the rest of us booking guest houses and caravan parks. But times change. The Gold Coast manages to combine that seaside family feel with glitter and sophistication, with a price tag that doesn't make you fall over!
Broadbeach holiday resorts, in particular, offer great value – especially when you consider what the area has to offer! Restaurants galore, two pristine beaches, kilometres of navigable waterways, world class shopping and, of course, Jupiters Casino.
Take A Look Online
It's just a matter of looking online and seeing what's on offer. The Phoenician Resort at Broadbeach is always a good place to start, as they seem to offer hot deals all year round. And that's pretty amazing when you consider that this is a AAA 4-Star Rated resort.
I'm talking luxury, air-conditioned one and two-bedroom apartments just metres from the beach! You can't ask for much more than that.
These apartments include Queen-sized beds, private balconies, fully-equipped kitchens, Austar and security systems. They are amongst the best on offer on the Gold Coast and they really are affordable.
Great Deals All Year
Some of the deals offered on Broadbeach luxury apartments are seasonal, and some are available all year round. For example, at the Phoenician, when you book a courtyard or garden view apartment, you will always get a discount.
Even in December, one of the busiest times of year on the Gold Coast, you can find great savings online when you visit https://www.phoenician.com.au/specials/
It doesn't matter what time of year you visit the Gold Coast, you'll always have a great time, because there's always something to do and see. The region's major attractions are open all year, and the beaches are just amazing any day of the week – especially given the Gold Coast enjoys 300 days of sunshine a year!
Great Restaurants On The Doorstep
There are fabulous restaurants on the doorstep, and world class shows to catch at Jupiters Casino. In fact, Broadbeach is the perfect weekend escape.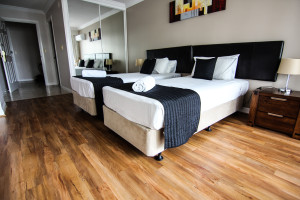 Stay for longer and you'll enjoy access to some of Queensland's best water activities, amazing natural beauty, major events and show-stopping entertainment.
And as for beaches, how does 70km of coastline sound, including family-friendly beaches, such as Broadbeach, and some of the best surf breaks in Australia.
Perfect Christmas Gift
There's stand up paddle boarding, kayaking and sailing, power boats, fishing, kite-surfing, swimming, snorkelling, diving and more besides!
Or how about a sunset cruise before heading out to dine, and then returning to your very own luxury apartment.
If you are on a tight budget, here's a great idea. Rather than buying each other presents this Christmas, why not treat yourselves to a wonderful and luxurious weekend away, and live the high life for a few days. You can't wrap it, but the memories will last forever!