Facilities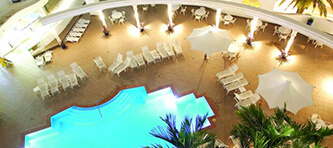 Phoenician Resort is situated in the iconic Broadbeach area of the Gold Coast, with its pristine beaches and scores of local attractions that have made it a favorite playground for holiday makers from around the world. Here you will find amenities sure to make your stay one of complete comfort, unparalleled pleasure and the last word in luxury.
Our facilities are so fantastic that you might not want to stray from the grounds. It may be tempting to forego sightseeing in favor of some of the many ways we have devised to cater to your creature comforts here at the resort. We are proud of our AAA, 4 star rating and constantly strive to find ways to make your holiday a memory you will treasure for a lifetime.
Here are some of the many facilities offered to our guests:
Indoor & outdoor swimming pools
Sauna
Spa
Gymnasium
Barbecue and entertainment areas
Security lifts
Tour desk
Underground security car park
You can beat the heat in one of our pools, enjoy a relaxing sauna, work out in the gym, throw some steaks on the barbie ….all without leaving the resort.
That being said, it's doubtful you'll be able to resist the sheer magnificence of the sand and surf, beautiful enough to dazzle even the most discerning holiday maker. Our goal is to deliver impeccable service and provide luxurious comfort that will make you want to come back and stay with us again and again.