Finding the Perfect Gold Coast Family Resort Accommodation
Category: Accommodation Written by : Phoenician Resort
Are you dreaming of a holiday in Broadbeach? If you were, it wouldn't be surprising because the Gold Coast is a premier family beach destination with plenty of kid-friendly attractions and a beautiful coastline. When planning your vacation and looking for the ideal resort for your family's Gold Coast getaway, you'll want to choose a property with amenities and facilities to keep the whole crew happy.
A quality, family-friendly resort on the Gold Coast should provide spacious, comfortable accommodations, onsite features, and activities for kids and parents alike. The resort location is also important – look for properties near significant family attractions and kid-friendly beaches.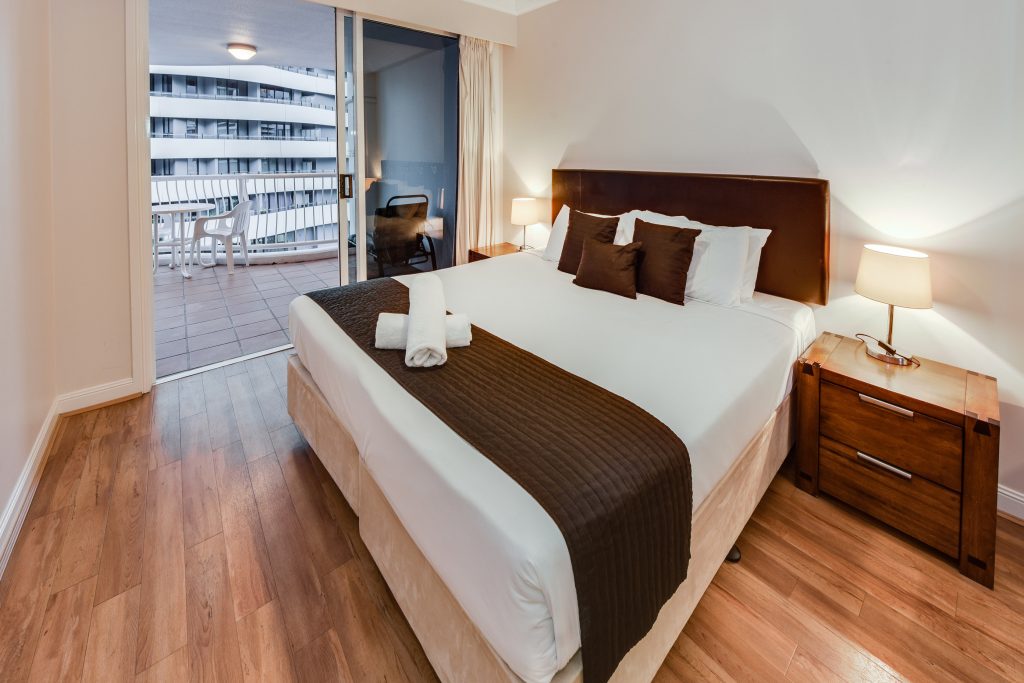 In this article, we'll explore how you can choose the right Broadbeach holiday accommodation for your family; after all, a family holiday to remember begins with finding the perfect resort!
What Makes a Gold Coast Resort Family-Friendly
So what should you look for when searching for the perfect family-friendly resort in this seaside Queensland destination? Key features that make Gold Coast resort accommodations stand out for families include:
Plenty of Space
Size matters when you're on a family holiday and crave some quiet relaxation time. You'll want to ensure everyone in your family has enough room to enjoy their surroundings and relax without feeling cramped or overcrowded. Opt for holiday accommodation with multiple bedrooms, bathrooms and living areas – a good rule of thumb is to choose a property that can sleep at least two more people than those you're travelling with.
Variety of Activities
When you're on holiday, making the most of your time as a family is important. That's why you'll want to look for resorts that offer something for everyone – activities and facilities catering to parents' interests and children's needs.
Swimming pools, playgrounds, game rooms, and other recreational activities can help keep the kids entertained while mum and dad can soak up the sun and relax.
Close Proximity to Attractions
Choose a resort location with easy access to attractions like the beach, theme parks, shopping centres, and restaurants. This way, you won't have to worry about having to travel far.
Nearby Dining Options
Having a variety of dining options within close proximity to your chosen resort is a significant advantage, especially when holidaying with children. Whether you prefer casual, family-friendly restaurants, takeaway options for a relaxed night in, or sophisticated fine dining for a special treat, Broadbeach caters to all tastes and budgets. Many resorts are ideally located within walking distance of a rich array of eateries, ensuring convenient access to whatever cuisines you fancy. This way, you can sample the local culinary delights without the hassle of lengthy travel times or the need to organise transport.
A Family-Friendly Feature Property – Phoenician Resort
Among Broadbeach's many family-friendly accommodation options, Phoenician Resort stands out and is worth mentioning. This property offers spacious, self-contained apartments to give families the flexibility of dining in or out. Each apartment has full kitchen facilities, comfortable furnishings and a private balcony where you can watch the world go by.
In terms of location, Phoenician Resort is unbeatable. It's situated just a short walk from the beach, a stone's throw away from the vibrant Broadbeach dining precinct, and just a quick drive from Gold Coast's famous theme parks.
Here are just some of the family-focused features at Phoenician Resort
Key Features of Phoenician Resort
The resort offers large, self-contained apartments that can comfortably accommodate families of various sizes. These apartments come with multiple bedrooms, bathrooms, and living areas, providing ample space for everyone in the family.
Every apartment at Phoenician Resort includes a fully equipped kitchen, offering families the flexibility to prepare their meals and eat in if they prefer, which is great if you have fussy eaters or want to keep costs down.
All apartments feature private balconies, allowing guests to enjoy stunning views, breathe the fresh sea air, and watch the world go by.
The resort is within a short walking distance from the beach, local dining precinct, and shopping centres. It's also a quick drive from the Gold Coast's famous theme parks, making it an ideal base for exploring the area.
The resort provides an array of fun and engaging amenities tailored for both children and adults. With swimming pools, gaming rooms, and play areas, there's no chance of the little ones getting bored.
Leisurely walking to Broadbeach's kid-friendly parks and patrolled surf beach makes enjoying the Gold Coast's great outdoors easy and safe.
With its family-tailored facilities and a prime location near the beach, theme parks, and shops, Phoenician Resort is one of the top Gold Coast resort options when travelling with kids. Families can enjoy the amenities onsite while also being close to all the major fun attractions.
No matter your children's ages, there will be something to keep them entertained at a resort like Phoenician. Parents can find time to relax at the pool or indulge in a spa treatment, knowing the kids are happily occupied right on site. If this all sounds just what you've been looking for in your search for the perfect Broadbeach holiday accommodation, then now's the time to book your stay.