Holiday Fun In The Gold Coast
Category: Accommodation Written by : Phoenician Resort
The Gold Coast has long been a favourite holiday destination for locals and visitors around the world. Whether it's the nightlife, the sand and sun, the people or the national parks that draw people back, Broadbeach holiday rentals in the heart of the Gold Coast are popular at all times of the year.
The Gold Coast is famous for its beaches, a coastline of 40kms of golden sands and patrolled beaches for safe swimming dotted all the way along. But there is more to the Gold Coast than just beaches, the Gold Coast is home to some of the most spectacular rainforest views and walks, with three national parks along the hinterland. Spend a day or weekend and you will only touch the very tip of what the Gold Coast has to offer.
To see more of the Gold Coast a full week or more can easily be spent exploring everything from theme parks to lagoons, waterfalls to sky diving. Where to stay when on the Gold Coast is often a dilemma, to be close to the all the action in a central place there is not better option than Broadbeach accommodation. There are numerous holiday rentals and accommodation options in Broadbeach, with luxury self-contained apartments such as the Phoenician offering the perfect mix of central positioning and plentiful resort facilities for down time.
Climate
The Gold Coast has a climate that can be enjoyed year-round. Average temperatures vary across the year, summer and spring months often mid to high 20's even low 30's, and winter is mild with temperatures very rarely below 10 degrees (and that's at night), and day temps of low 20's. This climate means even in the middle of winter you will still find people sun baking at the beach and enjoying a refreshing swim.
In summer, in all parts of Australia it is important to remember as the temperatures get higher, to drink a lot of water, keep applying sunscreen and stay out of the sun in the middle of the day. The high temperatures on summer days mean finding Broadbeach holiday rentals can be extremely difficult and its best to book ahead if you wish to travel in peak times.
Winter on the Gold Coast is especially popular with people from cooler climates, as it is still possible to be in summer attire for much of the day, so booking your Gold Coast holiday well in advance is your best chance to find a great Broadbeach holiday rental.
Attractions
If there is one thing the Gold Coast is not short on that's attractions to fill your time with. The Gold Coast is home to 3 major theme parks, Movie World, Dreamworld, and Sea World which are all within 30 minutes of your Broadbeach accommodation. Further attractions include water park Wet and Wild, Ripleys Believe it or Not, Currumbin wildlife Sanctuary, Sky point observation deck, Tree top Challenge, Glow worn caves and  Gold Coast wax museum.
There are so many more attractions, from the Gold Coast botanic gardens and lamingtons national park to the skywalk at Mount Tambourine and mountain village. No matter whether you are young or old, the Gold Coast offers something for every age and every taste, including horse riding and wine tasting in the hinterland. For a great base central to all the Gold Coast has to offer Broadbeach offers a range of accommodation and is a great place for your holiday rental.
Nightlife and Dining.
The Gold Coast has been famous for its nightlife, and while there are plenty of clubs for the younger generation there is also plenty of nightlife for families and couples to enjoy. When you stay in a Broadbeach holiday rental such as the Phoenician you are a short stroll to roving entertainers and musicians who light up the area. Suitable for families the roving buskers may include people on stilts, magicians and singers.
The dining options around Broadbeach accommodation can only be described as world class. From upmarket restaurants serving only the best in local produce to take away vegetarian meals, the dining options on the Gold Coast are endless. Al la carte, al frescos and takeaway options are all available in just about any cuisine you can name. Likewise your dessert options are abundant, with gelato and sweet treats beckon you from nearly every corner.
Accommodation
The is no shortage of accommodation options on the Gold Coast, and Broadbeach has a number of holiday rentals. A popular choice for families and businesses guests alike is the Phoenician resort Broadbeach, this apartment accommodation offers fully self-contained 1- and 2-bedroom apartments set in the heart of the action.
With indoor and outdoor pools, spa, sauna, gum, BBQ and games room its easy to see why these old school luxury apartments are a popular choice. The unique architecture exudes elegance and sophistication, not a new building but a well maintained one these apartments have the luxury of a bath and 2 bathrooms in the 2-bedroom apartments, a must for any family wishing to enjoy their holiday with a bit of convenience and luxury.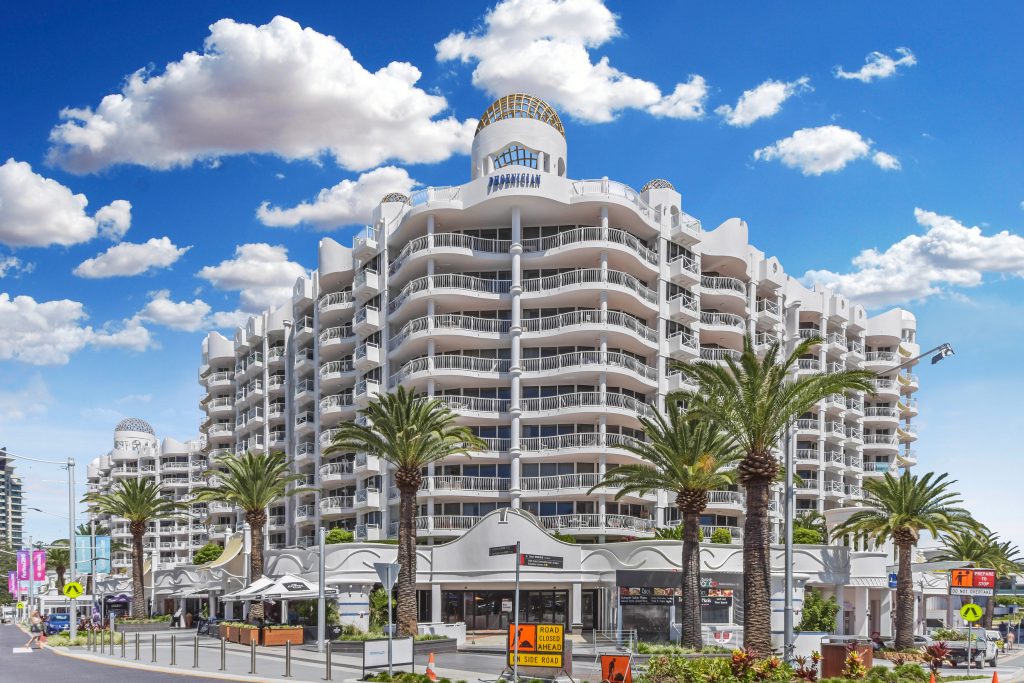 The modern renovated kitchens make mealtime easy, if you decide it's time to have a quiet meal in. Offering secure carparking, wifi, Foxtel and friendly onsite managers its not surprise that the Phoenician has many returning guests.
Transport
Getting around the Gold Coast without a car is easy with the new Gold Coat light rail network. Spanning 20 kms with 19 stations, the closest stop is right outside your Broadbeach holiday rental at the Phoenician. Return transfers from Gold Coast and Brisbane airport can also be arranged through the Phoenician resort at Broadbeach. Your friendly onsite managers can also arrange day trips with pick up and drop off points at your Broadbeach holiday rental. If you do decide to drive, there are plenty of places to explore with a car and a secure car park awaits you at the Phoenician resort Broadbeach.
Conclusion
If you're lusting for a holiday but don't know what you want to do, the Gold Coast is the perfect place. Here you can decide day to day whether it's the beach or rainforest that calls you. Tae it easy and relax in your Gold Coast holiday rental by the pool at the Phoenician or dance your night away nearby. Broadbeach offers the best in holiday accommodation and location for families, business travelers, singles and couples alike.